~ May 14, 2017 Featured Readers ~

Jeremy Lee Cook & Joshua Mertz

— Please support our authors by visiting their links, buying their books and supporting their work --

---
Jeremy Lee Cook:
Writing on a daily basis has led my mind to my heart, neither of which can be ultimately defined. Yet will say: duality and in-between seem to be why birds sing.

---
---
Joshua Mertz:
Joshua Mertz is the son of a rocket scientist and a word-savvy mother. He has been writing poetry since high school. The earliest stuff was embarrassingly bad, but he has gotten better. He has had poetry published in Harper's Bazaar and Filmmakers Newsletter, as well as short stories published in Amazing Stories, Aboriginal Science Fiction, and in Eugene's own online literary journal, Setting Forth. Joshua also has a cyberpunk novel Machine Dreams, published by Bald Mountain Books and has three short stories in Bald Mountain's award winning Halloween anthology Harvest Tales And Midnight Revels. After a tumultuous and moderately interesting life working as an offset litho cameraman, radio announcer, and Hollywood teleprompter, he has settled down somewhat and now calls Eugene home. Joshua sees the world as poetry; a mixture of tragic, humorous, downright crazy, and endlessly fascinating. Trying to capture all this with words has been his lifelong quest.




---
---
Powered by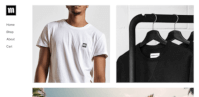 Create your own unique website with customizable templates.